NEW BRUIN SPRAYER + FREE AUTOSTEER = ONE MIND-BLOWING DEAL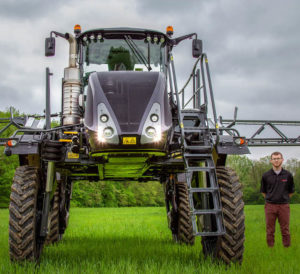 Here's your chance to score free AutoSteer. From now until December 31, 2019, when you buy a new Bruin Sprayer you'll get the industry's best AutoSteer – the Raven RS1TM AutoSteer – for FREE with your purchase. Bruin Sprayers are the tallest rear boom sprayers in North America and pairing one with the industry's best AutoSteer lets you spray accurately and efficiently deep into the growing season. That's one mighty fine deal.
RAVEN RS1 ADVANCED STEERING
Experience the most accurate high-speed steering system in the industry for FREE. The RS1 by Raven Applied Technologies combines autosteer, GPS and In-Cab Remote Support into one intuitive, easy-to-use unit. Cover more acres in a day using the incredible accuracy and fast line acquire of the RS1. Whether you prefer to operate at fast or slow speeds, this precision technology uses WAAS GPS and a rotary positioned autosteer node to keep accuracy in check and makes fine-tuning parameters simple.
>>> Learn more about the RS1 Steering System — including a free data subscription for the first two years!
WHY CHOOSE BRUIN SPRAYERS?
Bruin Sprayers from Equipment Technologies are specially designed for farmers and custom applicators who want a hydrostatic sprayer equipped for the future of spray application. What to watch for:
SUPERIOR HEIGHT CLEARANCE
Spray later into the season than ever before! The HS1100 sprayer adjusts automatically on-the-go from 60 to 70 inches – making it the tallest rear boom sprayer in North America.
HYDRAULIC BOOM HEIGHT ADJUSTMENT
Ensure boom height is optimal for the crop you're spraying – the rear hydraulic lift allows you to spray higher later in the season when crops are tall.
FOUR-WHEEL STEER
Four-wheel steering ensures that the rear wheels stay on the path and includes slope compensation with back axle correction for better control on hills and headlands – lessening crop damage during spraying. Crab steer mode allows for enhanced mobility in tight places.
UNDENIABLE BOOM STABILITY
Our unique boom design offers a stronger, more flexible, better protected and lower-maintenance boom package. Boom wings break away when coming into contact with trees and other immovable objects, and spring back into place when the obstacle has passed, minimizing overall wear and tear.
>>> View the complete 2020 Bruin Sprayers line-up.
TERMS AND CONDITIONS
Equipment Technologies (ET) offers the following retail incentive on new Bruin Sprayer models:
Offer expires on December 31, 2019.
Financing must be approved on or before December 31, 2019.
Offer can be applied to existing dealer stock or newly built units. For newly built units, ET will build and/or deliver sprayer as soon as possible, but at their own discretion.
ACT NOW!
OFFER ENDS DEC. 31
Fill out the form to claim your free AutoSteer.