WHO SAYS YOU CAN'T BUY NEW FRIENDS?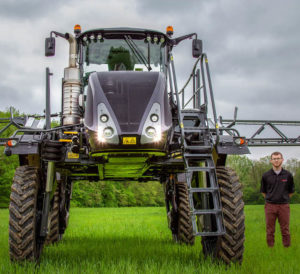 From now until December 31, 2019, if you refer a friend, neighbor or a friendly acquaintance to us and they purchase a new Bruin Sprayer you will receive $500 in cold hard cash. That's a lot of dough for little to no work from you.
WHY CHOOSE BRUIN SPRAYERS?
Bruin Sprayers from Equipment Technologies are specially designed for farmers and custom applicators who want a hydrostatic sprayer equipped for the future of spray application. What to watch for
SUPERIOR HEIGHT CLEARANCE
Spray later into the season than ever before! The HS1100 sprayer adjusts automatically on-the-go from 60 to 70 inches — making it the tallest rear boom sprayer in North America.
HYDRAULIC BOOM HEIGHT ADJUSTMENT
Ensure boom height is optimal for the crop you're spraying — the rear hydraulic lift allows you to higher later in the season when crops are tall.
FOUR-WHEEL STEER
Four-wheel steering ensures that the rear wheels stay on the path and includes slope compensation with back axle correction for better control on hills and headlands — lessening crop damage during spraying. Crab steer mode allows for enhanced mobility in tight places.
UNDENIABLE BOOM STABILITY
Our unique boom design offers a stronger, more flexible, better protected and lower-maintenance boom package. Boom wings break away when coming into contact with trees and other immovable objects, and spring back into place when the obstacle has passed minimizing overall wear and tear.
P.S. Did you hear that we're offering FREE Raven RS1™ AutoSteer until the end of 2019 (ends December 31)?
Terms and Conditions
Equipment Technologies (ET) offers the following retail incentive on new Bruin Sprayer models:
Offer expires on December 31, 2019.
Financing must be approved on or before December 31, 2019.
Offer can be applied to existing dealer stock or newly built units. For newly built units, ET will build and/or deliver sprayer as soon as possible, but at their own discretion.
GET MOVIN' IN A BRUIN
Fill out the form below to submit your referral for this offer.